Medical Director(Professor)
Our Medical Director Prof. Dr Saibal Moitra, had completed his clinical training from Maulana Azad Medical College, University of Delhi with distinction in Biochemistry leading to the award of MBBS degree. Thereafter, he did his specialist training in Respiratory Medicine from Vallabhbhai Patel Chest Institute, University of Delhi, India leading to the award of MD in Respiratory Medicine. He further pursued his training as a clinician researcher in Allergy and Immunology at University of Calcutta leading to the award of Physiology with Major in Immunology. He had worked at Medway Maritime Hospital, University of London, at Kent in the department of respiratory medicine. He worked as Senior Researcher, Lecturer, Assistant Professor, Consultant and finally Adjunct Professor and Senior Consultant in the departments of Pulmonology at Apollo Hospitals, Kolkata and Department of Cellular & Molecular Immunology at Calcutta School of Tropical Medicine, Kolkata. He is involved in treatment, teaching, and research in allergy and Immunology.
Learn More: https://saibalmoitra.com/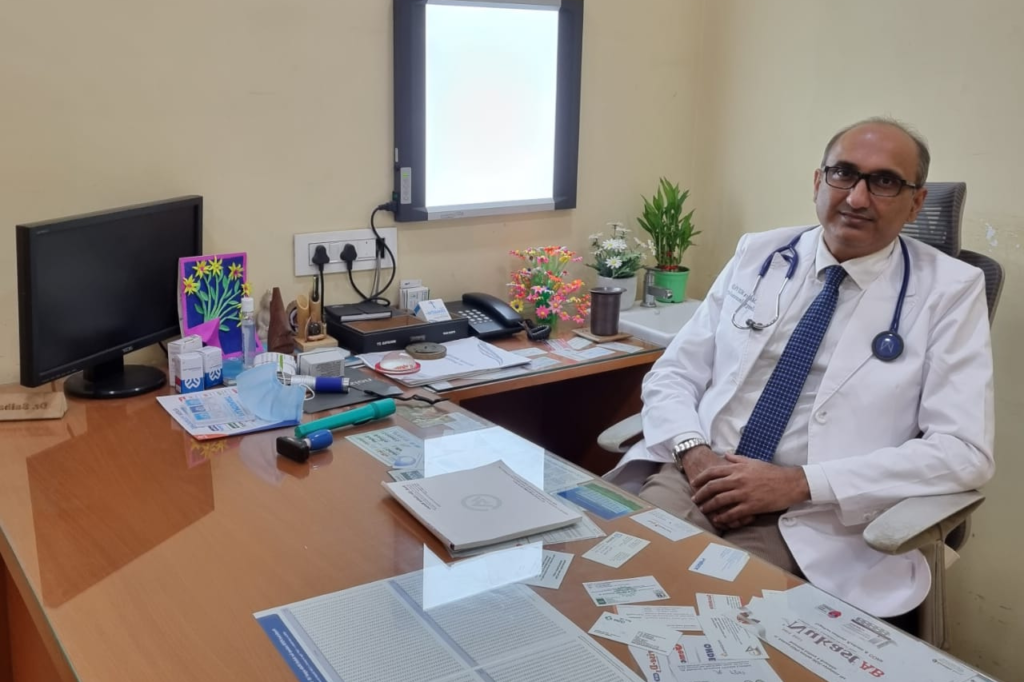 Honorary Medical Director, Allergy and Asthma Treatment Centre, Kolkata, India
Honorary Visiting Faculty, Allergy and Immunology, Christian Medical College, Vellore, India
Honorary Visiting Professor, Department of Pediatric Allergy, Sir Ganga Ram Hospital, New Delhi, India
Qualification and Fellowships:
Bachelor of Medicine and Bachelor of Surgery ( MBBS).                                  1997
Doctor of Medicine ( Respiratory Diseases) ( MD).                                               2001
Doctor of Philosophy (Physiology)( PhD).                                                                   2008
Fellow of American College of Chest Physician (FCCP).                                    2009
Fellow of Indian College of Allergy Asthma & Immunology( FICAAI).        2010
European Diploma in Adult Respiratory Medicine                                                2012
Diploma in Allergy and Asthma                                                                                          2010
Fellow of Royal College of Physicians Edinburgh                                                    2022
Fellow of Royal College of Physicians Glasgow                                                        2022
                                                              Allergy and asthma treatment centre is the first and most comprehensive treatment unit for allergic diseases in Eastern India which started it's operation in 1975 under a project on childhood allergic diseases by Indian Council of Medical Research. The main founders of this centre has been Dr Sachin Chowdhury and Dr N C Das.The centre has treated more than 10 lakhs patients with allergic disorders not only from the state of West Bengal but also from the neighboring states of Odisha, Bihar, Assam, North Eastern states, Jharkhand and the neighbouring countries of Bangladesh, Nepal and Bhutan. The centre has dedicated full time clinical specialists, basic scientists, social scientists and paramedical personnel who are dedicatedly working in the field of allergy and asthma. The centre is headed by Dr Arijit Das and Dr Saibal Moitra. This centre started Allergen Immunotherapy in this part of the country. The initial years were shaped by academic guidelines from CSIR- Centre for Biochemical technology( now IGIB) and V P Chest Institute( University of Delhi). This is now the largest centre for allergen Immunotherapy and patients are referred to this centre for this modality of treatment from far and wide. The centre also undertakes training programme in allergy and allergen immunotherapy with International Asthma Services, USA and University of Colorado, Denver, USA. It has strong academic collaborations with University of Calcutta, Jadavpur University and Bose Institute.
2. The centre plans to be one of the accredited regional centre for allergy and allergen immunotherapy.
3. The centre has various academic collaborations as detailed above.
4. Stated above
5. Dr Saibal Moitra MD, PhD, MAMS, FCCP(USA), FICAAI, FRCP(Edin), FRCP(Glasg)
Medical Director
6. Tests done include: Spirometry, Oscillometry, FeNO, DLCO, 6 Minute walk test, Bronchial Challenge test
Skin prick test, Allergy Profile, Drug allergy test, Food allergy test, Insect venom allergy test, oral drug challenge test, oral food challenge test
All routine blood tests
7. Treatment include: Allergen immunotherapy, drug desensitization, treatment of respiratory diseases like Asthma, COPD, ILD, allergic rhinitis, atopic dermatitis etc.
For More Information And New
Updates Subscribe Our Newsletter