Best Allergy & Asthma Treatment Centre in Kolkata.
Allergy & Asthma is Treatable, what you need is proper diagnosis by a qualified medical professional. Avail the best Allergy & Asthama treatment centre in kolkata.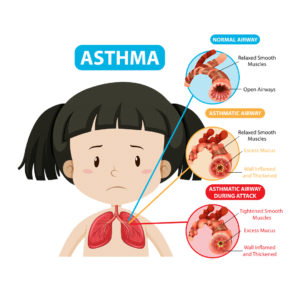 Best Asthma Treatment in Kolkata
Find the best asthma treatment available in Kolkata, offering specialized care to effectively manage respiratory concerns. Explore personalized approaches and expert guidance, ensuring relief and better respiratory health for those seeking top-notch asthma care in the city

Childhood asthma is a long-term breathing problem that affects kids. It causes trouble breathing, coughing, and wheezing. Triggers like allergies or infections can make it worse. Managing it involves medicines and avoiding triggers to help children breathe better and stay healthy. Working with doctors is important for proper care and treatment.
Adult asthma is a chronic lung condition that causes inflammation and narrowing of the airways, leading to symptoms such as wheezing, shortness of breath, chest tightness, and coughing. This condition can develop in adults who didn't have asthma as children or can persist from childhood. Consulting a healthcare professional is crucial to develop a suitable treatment plan for adult asthma.

Asthma in Special Situation
Are you suffering from – Long standing & Recurrent Wet Cough, Shortness of breath, wheezing sound, disturbed sleep because of cough at night, Chest tightness, Increase in above symptoms on exposure to dust, pollen, smoke etc.
We Provide the Following Facilities
The Allergy & Asthma Treatment Centre (AATC) is based in Kolkata and operates as part of NCD Immunomedicare Pvt Ltd. Our clinic focuses on providing top-quality healthcare for people facing chronic asthma and allergies. We have a skilled team of experienced doctors and physicians who use advanced medical tools to ensure the best care possible.

Our testing covers skin prick tests, blood allergy tests (ImmunoCAP), insect allergy tests, and graded drug challenge tests, among others, ensuring a comprehensive evaluation of allergic responses.

We conduct specialized immunological tests like Total IgE, Eosinophil Cationic Protein (ECP), Food Intolerance Test, and Complete Biochemistry & Pathology, providing detailed insights into immune system activity and potential intolerances.
Our tests include Spirometry (PFT), FENO, IOS, BPT, DLCO, and Exercise Oximetry, enabling a thorough assessment of lung function for precise diagnoses.
With a cutting-edge sleep lab, we diagnose various sleep disorders, offering Polysomnography and multiple sleep latency tests for both adults and children.

We provide specific allergen immunotherapy for allergic asthma, rhinitis, and atopic dermatitis, along with venom immunotherapy for stinging insect allergies.
Smoking Cessation Clinic:
Our dedicated clinic supports individuals in quitting smoking by providing holistic treatment and counseling, aiding many to lead a smoke-free life.
Best Allergy Treatment in Kolkata
Find exceptional allergy treatment at our specialized center in Kolkata. Our skilled team and advanced medical approaches provide top-quality care for different allergic conditions. Experience relief and effective solutions for allergies at our leading clinic in Kolkata
Allergy related diseases can be classified based on the target organ involvement. Some common types are mentioned below..
Read what our patients have to say about their experiences with us
I can't say enough good things about the Allergy & Asthma Treatment Centre! Their attention has changed my life. The team's knowledge and compassion are exceptional. They supplied a tailored treatment plan that precisely addressed my problems. The facility is excellent, the staff is kind, and the scheduling is simple. I wholeheartedly suggest this center for outstanding allergy and asthma therapy!
The Allergy & Asthma Treatment Centre has helped me tremendously. Their care has changed everything! Their knowledgeable and caring staff created a personalized treatment plan that initially addressed my unique problems. The facility is contemporary, the staff is kind, and the scheduling is simple. It is highly recommended for anybody looking for outstanding allergy and asthma care!
At the Best Allergy Treatment Centre in Kolkata, I had an incredible experience. My allergies were successfully treated by the knowledgeable group. They were spot on with their diagnosis, provided individualised care, and showed great concern. The finest option for allergy treatment in Kolkata is at this facility.
At Kolkata's Best Asthma Treatment Centre, I underwent a transformation that changed my life. I was immediately put at rest by the helpful staff and the very skilled medical team. My asthma was greatly improved by the center's holistic approach, cutting-edge amenities, and individualised treatment plan. Thanks to the Best Asthma Treatment Centre in Kolkata, I now lead a happy life with their help and educational sessions.
Why Choose Us
For Best Allergy & Asthma Treatment in Kolkata ?
Have a Question?
Contact Us Now!
Our team and staff at Allergy & Asthma Treatment Centre in Kolkata, West Bengal, are dedicated to helping you. Whether you have a question about our services or need assistance, we are here to help! Explore our Doctors and Treatments can help you from Allergy & Asthma.
Recent Post
Dive into our blog for valuable insights on allergy and asthma treatment. Find expert advice, stay updated with the latest research, and get practical tips for managing respiratory health. It's your guide to a healthier life.
कोलकाता में शीर्ष एलर्जी विशेषज्ञ एलर्जी का परिचय और पेशेवर मदद लेने का महत्व…
FREQUENTLY ASKED QUESTIONS
We understand that seeking treatment for allergies and asthma can raise questions and uncertainties. As the best allergy and asthma treatment centre in Kolkata, we empathize with your concerns and are here to alleviate them. Our dedicated team has crafted a list of commonly asked questions to address your queries and provide you with the knowledge and reassurance you seek before visiting our center. We take great pride in being your reliable partner throughout your allergy and asthma treatment journey.  Don't hesitate to reach out to us or schedule a visit to our clinic. With the best specialists in Kolkata, we are here to provide you with exceptional care and support for all your allergy and asthma treatment needs. Trust us to be your guide and experience the highest level of personalized care at our esteemed allergy and asthma treatment center in Kolkata.